Free timber newsletter subscription
Timber Newsletters from timber technology leader Outdoor Structures
Timber Newsletters
Informative and practical articles from timber technology leader Outdoor Structures. Subscribe now to receive these free email newsletters - published most months.
Flood Repair Guide

Download guide (ver 2)
Guide to Assessment and Repair of Flood Damaged Timber and Timber Framed Houses.
By Timber Queensland Ltd
2013 Newsletters
April 2013 Newsletter Lessons from a Failed Boardwalk (450KB PDF)
March 2013 Newsletter Another domestic deck collapse and other warnings (430KB PDF)
March 2013 (Special) Newsletter Discussion forum on plastic decking (Interim document pending finalisation) (120KB PDF)
February 2013 Newsletter 1 in a 100 Floods, UV specifications and Timber Preservation Guide (470KB PDF)
January 2013 Newsletter F17 specification, Grantham project, 3D printing and more (510KB PDF)
2012 Newsletters
December 2012 Newsletter "Use the right product when building a deck" (200KB PDF)
November 2012 Newsletter "Fibre composite joists" (500KB PDF)
October 2012 Newsletter "Is timber design dead?" And Deck Fatality (700KB PDF)
September 2012 Newsletter "Forgive me father for I have sinned." (620KB PDF)
August 2012 Newsletter "Timber used in Grantham reconstruction" (720KB PDF)
July 2012 Newsletter "Hello Infrastrucxion! And very long span bridges." (550KB PDF)
June 2012 Newsletter Various timber matters. (620KB PDF)
May 2012 Newsletter Timber decking: Identify and assess that defect. (670KB PDF)
April 2012 Newsletter "Foot-bridges of all shapes and designs" More on the Flinders BBQ table. (750KB PDF)
March 2012 Newsletter "Decking - Gaps, timber substitution and more" (665KB PDF)
February 2012 Newsletter Handrials & horses and large playground shelters (665KB PDF)
January 2012 Newsletter "Post Flood Redevelopment at Grantham" and more decking advice (560KB PDF)
2011 Newsletters
December 2011 Newsletter What Timber Species is That? (410KB PDF)
November 2011 Newsletter F17 and F11 KD Hardwood Specifications (480KB PDF)
October 2011 Newsletter Grantham redevelopment and Long span bridges (700KB PDF)
September 2011 Newsletter Malthoid a mixed blessing, Timber decking gaps & new boardwalk projects (350KB PDF)
August 2011 Newsletter Various timber issues (350KB PDF)
July 2011 Newsletter Specifications for the use of recycled timber (340KB PDF)
June 2011 Newsletter Boardwalks and fire plus two new projects (630KB PDF)
May 2011 Newsletter 4th Australian Small Bridge Conference (275KB PDF)
April 2011 Newsletter "Installing Freestanding Posts in Supports" (340KB PDF)
March 2011 Newsletter "Installing Structural Posts in Concrete" (420KB PDF)
February 2011 Newsletter "Laying Deckwood on Concrete with Restricted Clearance Underneath" (350KB PDF)
January 2011 Newsletter "Gaps in decking & safety requirments" (400KB PDF)
2010 Newsletters
December Newsletter Timber Treatment continued (365KB PDF)
November Newsletter Timber Treatment 101 (545KB PDF)
October Newsletter New range of bridges (430KB PDF)
September Newsletter More on tannin staining, also the use of Blackbutt timber (270KB PDF)
August Newsletter "Timber For Life" (300KB PDF)
July Newsletter "Various Timber Matters" (260KB PDF)
June Newsletter "Simplifying Wire Balustrade Systems" (280KB PDF)
May Newsletter "Why Are Unsuitable Bridges Being Installed?" (280KB PDF)
April Newsletter "Designing Timber Structures for Durability" (250KB PDF)
March Newsletter "Timber sizes can be difficult" (250KB PDF)
February Newsletter "Decks that kill!" (250KB PDF)
January Newsletter "When is a preservative not a preservative" (275KB PDF)
July 2009 Newsletter - Headlines
Government Recognises Outdoor Structures's Advanced Technology
Australian Technology Showcase

Read about Outdoor Structures's innovative Deckwood
What is your perspective of weather exposed timber? Too hard? Too unreliable? It is a common enough story.I recall the words of utter frustration and despair from a landscaper after a timber deck he designed failed "My client is rope-able". With our help it is neither hard nor unreliable.
Why take the risk of relying on common practice when you can talk to Outdoor Structures instead? Outdoor Structures is the only Australian company that has advanced and well proven patented technology for decking systems and bollards.
The Advanced Technology Showcase is a joint federal and state government initiative that recognises and promotes advanced technologies.
In the recent state finals for their annual awards there were the "usual suspects" of computer hardware and software but Outdoor Structures was also there with a natural product. Please talk to us before and during the design. It makes a big difference.
Technical Note
How to avoid cupped decking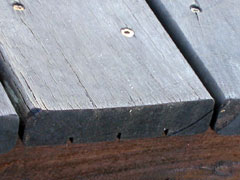 Image of cupped 200x50 decking
While there are references in the Australian Standards to width to thickness ratios for some structural members, there is no such ratio for decking.
In the past, Deckwood 145x35 was a short-lived member of our Deckwood range. However, after being made aware that it started to show signs of cupping, this size was withdrawn. Its ratio was 4.1:1, just beyond what is justifiably regarded as "the limit".
Decking of similar ratio cannot be guaranteed to deliver customer satisfaction. We tragically note that there are still some design offices specifying decking at sizes of 140x31 (ratio 4.5:1) This is even more likely to cup. Our experience is that 120x35 is stable (ratio 3.4:1) as is 145x45 (ratio 3.2:1).
Use of unseasoned timber will contribute to cupping due to differential shrinkage between tangential and radial faces but kiln drying your decking does not automatically give you stability. Potential to cup is best addressed/minimized by:
Using 'stocky' x-sections - breadth to depth ratio 3.5:1 max, or less
Use of seasoned timber
Application and maintenance with a water repellant finish
Good ventilation below the deck
Kiln drying your decking will not effect distortion caused by differential moisture between the hot top and cooler back. Kiln drying also introduces delays, greatly increases the carbon footprint of your project and will not counteract an incorrect width to thickness ratio. Timber is no different to steel and concrete in that there are some rules that you break at your peril. By specifying Deckwood we take care of this for you.
See all Timber Technical Notes »
Changes to Technical Guides
Commercial Barrier Guide
See all
Timber Guides »
Our Commercial Barrier Guide is all but complete. This will be an extraordinarily helpful guide. The guide also contains a very useful section on stainless steel wires.
Deckwood Selection Guide Rev 3B has been issued with:
Additional span chart for 136x42 KD
Changes to recommendations for finishing
Slip resistance testing is now available
Boardwalk Design Guide Rev 2B has been issued with:
A minor change to Fig 25 on Page 17. Please make an amendment to your copy by crossing out the dimensions 10, 20 and 24.
Bollards Traffic Control and Fencing Guide. New and amended pages available are:
Index
Page 2.2 Rev B Heavy duty Bollards - new products in the range
Page 2.4 Rev A Coventry and Warwick range added
Page 3.3 Rev B Eclipse Bollard - E7 added
Page 3-4 Rev A Torr and Viking range added
Please contact us if you need a hard copy of the guide. See all Timber Guides »
New Shelters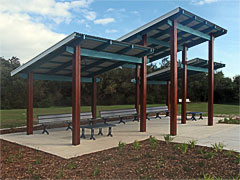 Image of Gregory Tripple shelter at Gympie.
Most people, myself included are creatures of habit, and for some readers that includes the shelter sheds they specify.
Why not consider something different such as the Gregory shelter with Pioneer Posts. The triple shelter illustrated above is very different to most shelters you will have used before.
Outdoor Structures provides very useful tools to assist you in using our products. Have you tried our dynamic blocks yet? With one file you can show any view with any post type and scale the fonts!!
These are only early days for this range but our customers are delighted. While we can supply steel posts, we think the embedded Pioneer Post will outlast light gauge steel any day.
Regards
Ted Stubbersfield, July 2009