T44 (44 Tonne) Vehicle Timber Bridges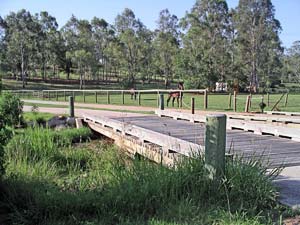 Providing the required T44 load rating without the problems associated with the older timber bridges.
Outdoor Structures Vehicle Bridges
Outdoor Structures has developed a range of vehicle bridges suitable for use as residential access bridges, golf courses and general public use in subdivisions.
Outdoor Structures has been manufacturing footbridges for many years but we had not produced vehicle access bridges as there was also a major design problem to overcome.
The problem was simply that if we designed for a 5 tonne load which would be quite satisfactory for a car, we could still reasonably expect the access bridge to be used by any vehicle that could negotiate the access road. This would include semi trailers and fire engines.
This was not a merely theoretical problem as the first vehicles to use the bridge would presumably be cement trucks and a load of bricks.
Clearly a 5 tonne bridge would not be suitable, a bridge with full T44 capacity is required. In timber, this unfortunately conjures up visions of the "old rattlers" on country roads.
Our company, in conjunction with James Pierce of James Pierce and Associates has developed an access bridge which gives the necessary T44 load without the problems associated with these older bridges.
New release! A160 Steel Frame Vehicle Bridges
A160 Steel Frame Vehicle Bridges (205KB Adobe PDF)
See examples of our bridges from our Bridge Project Galleries
Many features of this design are quite unique.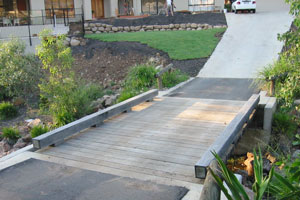 T44 vehicle bridges are standard Outdoor Structures products and are designed by James Pierce and Associates.
The load is carried primarily by the girders with three sitting under each wheel track (see photo). This allows a 70mm Deckwood deck instead of the traditional 125mm.
Decking is skewed so the shock of the wheels hitting each plank is reduced.
The deck is fastened from below using stainless screws attached to steel T beams (see photo). The T beams are in turn fastened to the undersides of the girders.
As shrinkage occurs the deck is still kept tight on the girders through the use of volute washers (see photo) which can accommodate approximately 25mm of shrinkage.
The deck is self cleaning through the unique Deckwood profile and by spacing the 200x200 kerb 50mm above the deck.
We believe that this bridge will meet the real needs of engineers, developers and local government for a low cost, high load carrying vehicle bridge. Spans are available initially up to 6.0m
| | | | |
| --- | --- | --- | --- |
| Pre-fab bridge span | Steel T beams | Volute washers | J-bolt tie downs |
Go to Swale Drain Bridges…