Timber & Timber/Steel Pedestrian & Vehicle Bridges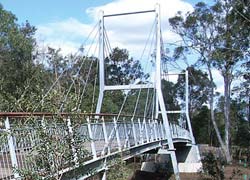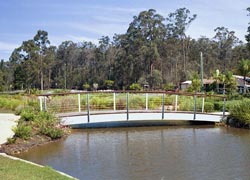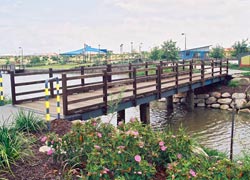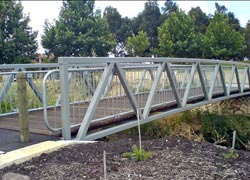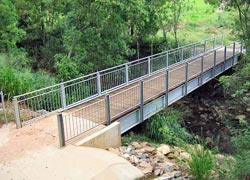 Berrinba Wetlands Brochure
This six page brochure presents the spectacular Berrinba Wetlands project including the 72 metre span cable-stayed bridge, 26 metre centre span designed for a 2.5 tonne emergency vehicle.
Please email us to obtain in hard-copy.
New release! A160 Steel Frame Vehicle Bridges
Outdoor Structures supplies a wide range of timber and timber/steel bridges for both pedestrian, light vehicle, 44 Tonne and A160 rated applications. See the menu at left under Bridges for additional detail. Or browse our extensive Outdoor Structures Showcase. Note also the numerous bridge-related documents freely available for download.
Log Bridges for pedestrian applications can be supplied in spans of up to 8 meters. Long bridges are achieved by joining the spans on corbels over piers. For bridges supplied in Australia, deck widths of up to 3.0 are achievable. See Pedestrian Log Bridges.
Sawn Timber De-mountable Bridges are suited to remote bush tracks where every item must be carried to the site. Spans of up to 5 metres (6 metres with the Barup truss option). See Sawn Timber De-mountable Bridges.
Outdoor Structures has developed a range of Steel Truss Bridges to meet the variety of applications with spans of up to 26 metres with timber decking and options for handrails and steel finish. See Steel Truss Bridges.
In conjunction with James Pierce of James Pierce and Associates, Outdoor Structures has also developed an access bridge which gives the necessary T44 load without the problems associated with these older bridges. See T44 Vehicle Bridges.
Steel Frame Vehicle Bridges (A160)
New release!
Outdoor Structures (Outdoor Structures) has developed a range of high load capacity vehicle bridges for use on public and private roads. This bridge complements Outdoor Structures's timber vehicle bridge that is normally used in residential developments servicing an individual block.
By utilising galvanised steel girders and decking with Boral Bridgewood we ensure a long, low maintenance life.
A160 Steel Frame Vehicle Bridges (205KB Adobe PDF)
Timber/Log Vehicle Bridges (T44)

T44 (44 Tonne) Vehicle Timber Bridges
Golf Course Bridges (367KB Adobe PDF)
Pedestrian Bridges

Log Foot Bridges to 8 metres

Log Foot Bridges 11-15 metres

Demountable Sawn Bridges

Steel Truss Bridges
Summerset Series Footbridges (1MB Adobe PDF)
Summerset Series Bridge: A steel tube based pedestrian bridge ideal for difficult and remote access locations.
Segmented Timber Footbridges (844KB Adobe PDF)
Segmented Timber Bridge: A timber pedestrian bridge ideal for difficult and remote access locations.
Japanese Series Timber Footbridges (230KB Adobe PDF)
By combining authentic Japanese styles with the most durable hardwoods grown in Australia, an exceptionally durable bridge is achieved.
Steel Footbridges (230KB Adobe PDF)
Light Bridge Manual (File 'light-bridge-manual-1a-10.pdf' not available)
Curved Footbridges (100KB Adobe PDF)

Swale Drain Bridges
Footbridge Specification (60KB MS Word doc)
Cycleway Specification (60KB MS Word doc)
Timber Bridge Design Brief
Submit online a Timber Bridge Design Brief »
Steel Bridge Design Brief
Submit online a Steel Bridge Design Brief »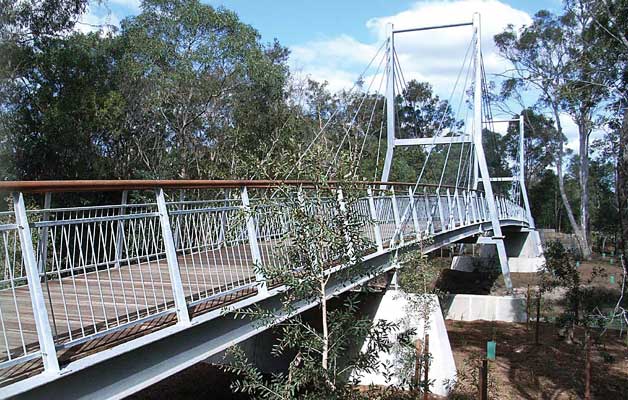 72 meter span cable-stayed pedestrian bridge by Outdoor Structures
Bridge Project Galleries Pedestrian Log Bridges to 8 Metres